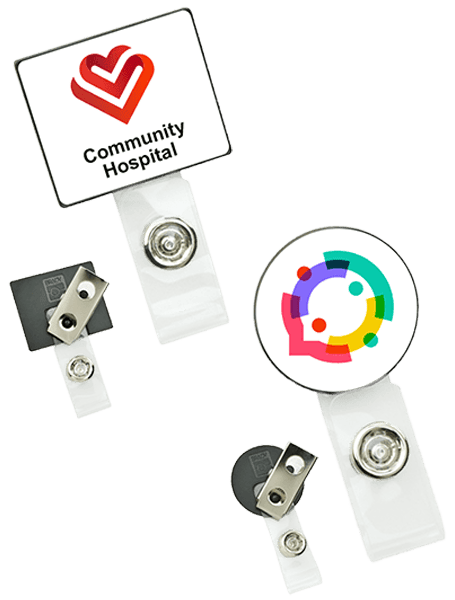 LogoClip™ Badge Holders
Logo clips are the simplest way possible to display I.D. badges. Just add a badge holder to the clip, snap it closed, and clip the I.D. to a shirt, blouse or jacket. The I.D. badge stays visible, and the standard clip, unlike pins, won't damage clothing.
The combination of logo clips and badge holders is unbeatable in terms of low price and simple use. They're a basic old-school technology that you can count on to just work. Add your custom logo to them, and they're a great way to promote your brand as well. They are particularly well suited for public workplaces such as retail, government offices such as the DMV, and medical offices or hospitals.
Need a way to hold I.D. badges, but don't need the flexibility of lanyards or badge reels? Go for badge clips. Need to personalize that badge clip? Go for LogoClips™. They promote your brand while holding I.D. badges securely clipped to clothing.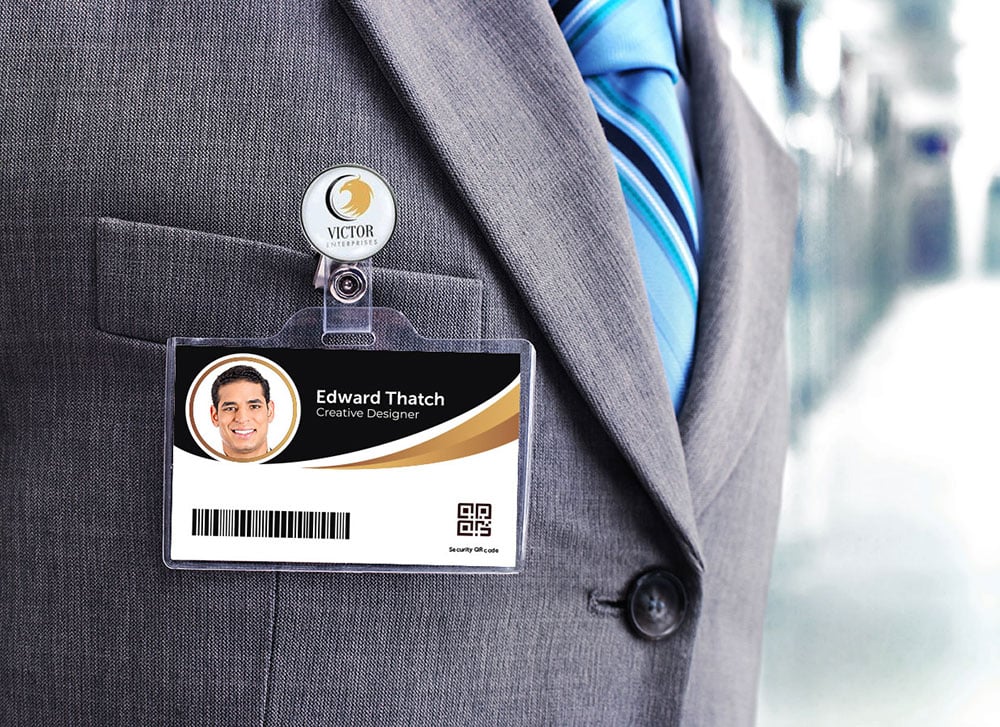 LogoClip™ Badge Holder Pricing
If you prefer more flexibility such as the ability to conveniently use key cards, and lower chance of loss, consider custom lanyards or badge reels instead of logo clips. Customized lanyards and badge reels both offer more room for your logo – even text in the case of lanyards. Because they don't have to be unclipped to present a key card, they're much more convenient to the user in those situations, and reduce the risk of losing a key card or work I.D. Lanyards increase the visibility of I.D. badges as well.
No matter which you choose, WholesaleLanyards.com has what you need. We offer a full range of logo clips, badge holders, lanyards and badge reels. Our experienced staff can help you determine which will work best for your specific workplace needs. Fill out our no-obligation Free Quote form, call us toll-free or email us today to find out more.
NOTE: LogoClip orders require a $50 setup fee, and are shipped from a separate facility than our lanyards. Shipping rates to your location will be provided at the time of quote.
| Quantity | 100 | 500 | 1000 | 2500 | 5000 |
| --- | --- | --- | --- | --- | --- |
| LogoClips™ | $0.84 | $0.73 | $0.63 | $0.60 | $0.58 |