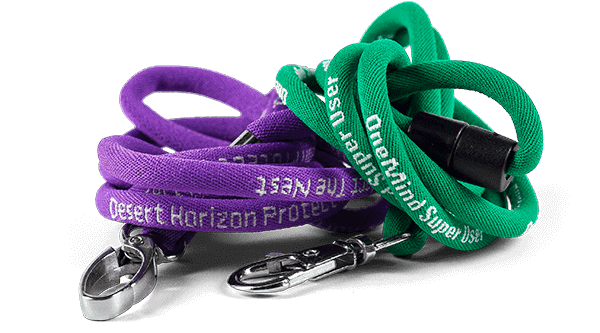 Cord Lanyards
Custom cord lanyards are the newest lanyard style we offer. This personalized lanyard offers outstanding wear comfort, excellent visibility for your text message in a clean, classic look. If cord lanyards are what you're looking for, WholesaleLanyards.com has you covered. We offer these custom lanyards in a standard 1/4" diameter and 36" length.
Cord Lanyard Pricing
| Quantity | 100 | 250 | 500 | 1000 | 2000 | 3000 | 5000 | +10,000 |
| --- | --- | --- | --- | --- | --- | --- | --- | --- |
| 5mm Width | $2.40 | $2.14 | $1.20 | $0.98 | $0.93 | $0.81 | $0.76 | $0.70 |

Why Choose Cord Lanyards?
These great polyester cord lanyards are comfortable to wear, so they're perfect for the workplace. In addition, they feature clear, legible imprints for your logo or text, so they're a subtle, yet powerful, way to promote your brand. These lanyards offer a terrific mix of affordability, wearability and style. If you want a classic personalized lanyard look, this is the perfect way to go.
Of course, our lanyards are covered by our 100% Satisfaction Guarantee. If you find one with a defect in either materials or workmanship, we'll replace it at no extra cost to you. It's all part of our commitment at WholesaleLanyards.com to outstanding customer service. We look forward to serving all your custom cord lanyard needs!
Because different lanyard uses require different styles, we offer a full range of lanyard styles in addition to cord lanyards. No matter what style you need, WholesaleLanyards.com can supply it. Not quite sure which of our multiple styles would be right for you? No problem! Our experienced, talented staff will be glad to help you choose the one that works best. Just let us know, either by phone (always toll-free), by email, or by filling out our no-obligation Free Quote form. We'll respond promptly, usually in less than 24 hours, to answer any questions you might have. We make it easy to get the right lanyards at the right price, and with outstanding customer service. We look forward to being your dependable, no-problem custom lanyard provider.